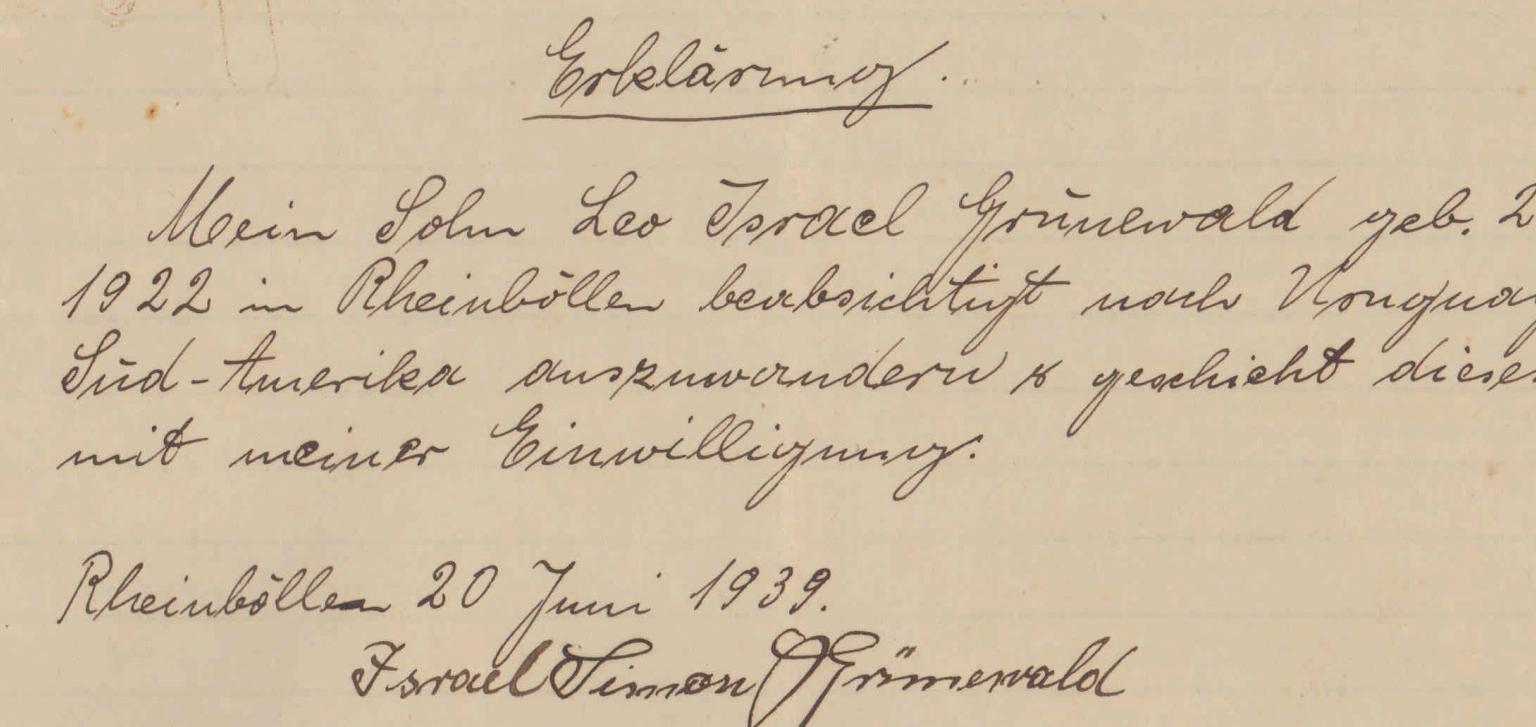 Emigration
Simon Grünewald confirmed his willingness to allow his son, 17-year-old Leo Grünewald, to emigrate.
To emigrate or to remain? 
Around 1900, approximately 1,000 Jews lived in the today's Rhine-Hunsrück region, but those numbers had dwindled to 673 by 1925. Many had already migrated to larger cities by the turn of the century. Still others dared the move out of the country. The search for a safe place of refuge grew as the repressions afflicted by the National Socialists took hold. Yet, many rural Jews chose to wait before first considering emigration because they were so closely integrated into the local social and economic life. It was inconceivable that a friend, a neighbour or a business partner could or would turn against them. The break came on the "Reichspogromnacht" [Night of broken glass], after which even those who believed themselves secure were forced to act.
In Kirchberg, for example, every Jewish citizen had abandoned their former homes by 1939. They moved in with relatives in the larger cities, looking for anonymity and the support of a Jewish community. Those who were able to obtain a visa left for a neighbouring country. Albeit, with the outbreak of the war, the NS persecutions caught up with them even in these supposed sanctuaries.
"My mother brought me by train out of our small village to Luxembourg. It wasn't actually a long distance, but it seemed like it took forever. As I was put on the train for the last leg to Luxembourg, it felt like the turning of the wheels were tearing me away from my mother."
Heinz Joseph (1925-2002), Laufersweiler
Being forced to respond quickly, many families were ripped apart as they pursued plans to emigrate. Parents initially sent their children to safe locations, hoping to follow them as quickly as possible. Letters bear witness to the attempts made to maintain a sense of normality, but also to the desperate wait in the hope of even the slightest signs of life. Eyewitness accounts tell of how Simon Grünewald from Rheinböllen broke down in the middle of the street after sending the last of his three sons, Herbert, Ernst and Leo, away to South America.
... but where to?
Even though emigration presupposes one's free will, it became ever more apparent to the Jews in Germany that no alternatives remained but to abandon their homeland. As the number of refugees began to increase, however, receptiveness in the destination countries began to dwindle. A prohibition on leaving the country issued on the 23rd of October 1941 put a stop to legal emigration.
Only in a few individual cases did survivors from the Hunsrück-region return to live permanently in Germany. Most chose rather to move on in an effort to evade the still existing Anti-Semitism and their former tormentors. They and their families began new lives in Israel, South America, the Dominican Republic, Argentina and Australia.
This slide presentation offers some insight into the fates of several of these people.
From Rheinböllen to Montevideo - a story of escape
In December 1939, Leo Grünewald from Rheinböllen was 17 years old when he fled Nazi Germany together with his cousin, Inge Grünewald. They departed from Genoa, crossing the Atlantic to Montevideo in Uruguay on-board the steamer Conte Grande.
Personal documents once belonging to Leo Grünewald surfaced at the end of 2018 and were offered for sale over the Internet. Among these were birth certificates, job references, tickets for his emigration to Uruguay, a marriage certificate, diverse photographs, etc. His family purchased these documents and conveyed them to the Forst-Mayer Centre in Laufersweiler in 2019, thus allowing important stations of his emigration-influenced biography to be retraced.
Inge Ariel Grünewald recollects their flight (in German language)
Inge Grünwald was only 9 years old when she fled Germany together with her cousin in December 1939. Her half-brother Edgar and an aunt from Bad Kreuznach had already emigrated to Uruguay in 1936 - that was their goal. In this 2019 interview, Inge Grünewald personally recalls memories of her father, the farewell to her hometown of Frankfurt and the difficult journey she undertook to Uruguay.